Nutritional Menus & Keeping Children Healthy
Staff are competent and understand the need to encourage and help children to be healthy. A well balanced menu is provided and regular communication with parents about individual routines, portion sizes, dietary requirements etc. maintained. Changes to appetite or preferences are quickly observed. Food and liquid consumption is regularly monitored and recorded to ensure children do not go hungry or become dehydrated. Children will be fed, supported with feeding and allowed opportunity for self selection provided that basic nutritional needs are met. Practitioners are trained to monitor intake and address any cause for concern including peer pressure between older children, fads, changes in appetite etc. Drinking water or juice is freely available in all areas for children to self select or request.
The menu has been planned in accordance with the requirements of the EYFS and the guidance documentation provided by the DfCSF and School Fund Trust. A complete allergy audit has also been completed for all food items included in the menus and is displayed within the kitchen for easy reference and checking.
Toilets and hand washing areas are kept clean and monitored regularly throughout the day and children are encouraged to develop independence in these areas as appropriate.Good hygiene practices are adopted consistently and are part of the nursery's routines; there is frequent discussion on the importance of this eg. Children understand the need to wash hands coming in from the garden.There are pictorial instructions for hand washing, nose blowing etc.
Oral hygiene is encouraged after lunch through the use of 'Smiley the crocodile' from the Oral B ' Stop the Rot' campaign. Information about this is also provided for parents to continue at home.
Children are given ample opportunity to be active both indoors and out and the benefits of physical activity are discussed regularly.
All staff are required to gain a Food Hygiene certificated training qualification.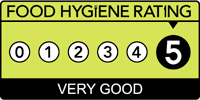 Barnies Day Nursery (Hadlow) was awarded a Food Hygiene Rating of 5 (Very Good) by Tonbridge & Malling Borough Council on 21st August, 2019. See More...
Barnies Day Nursery (Hop Farm) was awarded a Food Hygiene Rating of 5 (Very Good) by Tonbridge & Malling Borough Council on 11th March, 2019. See More...
At Barnies a complete allergy audit has also been completed for all food items included in the menus and is displayed within the kitchen for easy reference and checking. Hadlow: 01732 850 033 | Hop Farm: 01622 872 788 | Sevenoaks: 01732 464 670